Embracing the Miscanthus Revolution
Miscanthus x Giganteus, commonly known as Elephant Grass, has captivated the attention of agriculturists, gardeners, and sustainability advocates alike with its versatile applications and remarkable environmental benefits. Esteemed for its rapid growth, low maintenance, and numerous uses – ranging from biofuel production to landscaping – Miscanthus x Giganteus signifies a greener future that is not only attainable but is also pragmatically beneficial.
Exclusive Offer Details
Our seasonal offer for 2024 invites new and experienced cultivators to explore the myriad potentials of this miraculous plant.
Whether you are a small-scale gardener looking to embellish your space with the lush, aesthetic appeal of Miscanthus x Giganteus, or an industrial farmer aiming to venture into sustainable bioenergy production, our exclusive Miscanthus rhizomes offer is crafted with your ambitions in mind.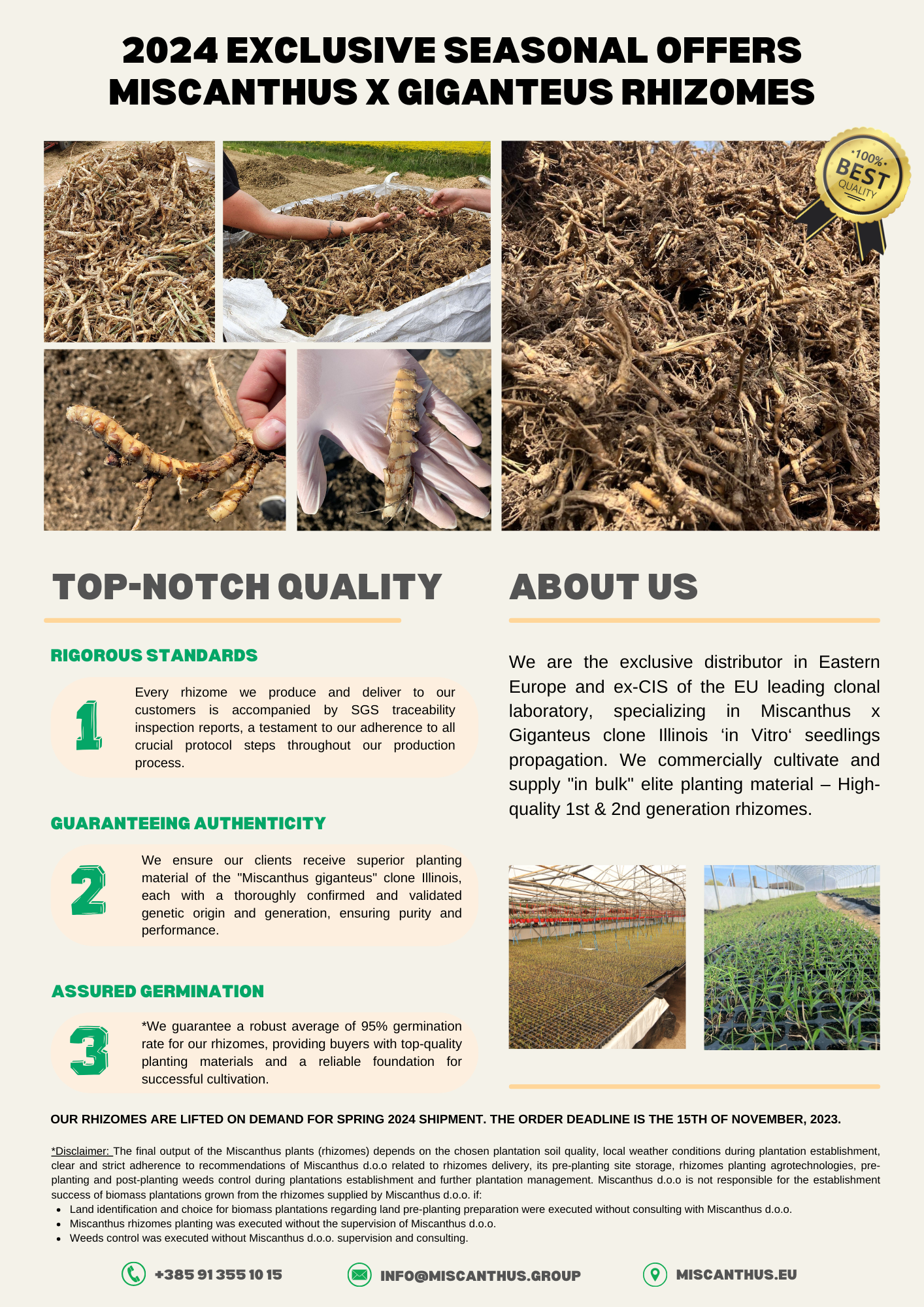 Advantages of Miscanthus Cultivation
Sustainability: Miscanthus offers a sustainable alternative for various industries, reducing carbon footprint and promoting a circular economy.
Versatility: Miscanthus is a genuinely versatile crop with applications from biomass production and erosion control to creating aesthetic landscapes.
Adaptability: The robust nature of Miscanthus allows it to thrive in various climates and soils, making it an accessible option for diverse geographical locations.
Building a Greener Future Together
The Miscanthus group has always prioritized paving pathways toward a more sustainable future. Our rhizome offerings aim to make Miscanthus cultivation an accessible and viable choice for all, thereby intertwining our collective efforts for a greener and cleaner planet.
Get Involved
We invite you to embrace this opportunity and become part of the sustainable revolution. For more information regarding our 2024 Miscanthus Rhizome Seasonal Offer and additional delivery terms and pricing, kindly write to us at: info@miscanthus.group